Thank you for shopping with us! durring Coronavirus Disease 2019 (COVID-19) Pandemic - We Are Open - Please Be Safe!
Product Features
» BEST PREGNANCY PILLOW - Deluxe Comfort's J Full Body Pillow - Hypoallergenic Synthetic Fiber Filler - Hook yourself into a great sleep is a top notch and expertly crafted pregnancy body pillow that is custom made for expectant women and others who need the ultimate good night's sleep.
» THERAPEUTIC MATERNITY PILLOWS - The shape and softness of this maternity pillow aligns the body so that it greatly reduces and relieves aches and pains in the head, neck and back; all while supporting the ever sensitive 'baby bump' in a comforting and protective fashion.
» COMFORTING PREGNANCY PILLOW DELUXE - Filled with luxuriating synthetic down fiber fill, this maternity pillow is an appropriately nurturing sleep aide with a hypoallergenic, 100 percent cotton pillowcase. While some pillows comfort the head, this succoring body pillow coddles the whole body.
» FINEST PILLOWS FOR SIDE SLEEPERS - This j shaped body pillow is ideal for side sleepers, as its shape and stability lend itself to this popular sleeping position. This full body pillow supports you from head to toe as you recline on your side.
» GUARANTEED BODY PILLOW PREGNANCY AID - We guarantee the excellent craftsmanship and infinite comfort of the J Full Body Pillow - Hypoallergenic Synthetic Fiber Filler- Hook yourself into a great sleep. If you have questions, comments or concerns about this ultimate pregnancy pillow, please contact us.
Product Overview
The most joyful time of your life also can be the most physically challenging and exhausting.
As an expectant mother, you may find that your body is undergoing changes and challenges every day. More than ever, you need a good night's sleep! The special needs that you possess at this time calls for a special pregnancy pillow. Deluxe Comfort delivers via the J Full Body Pillow - Hypoallergenic Synthetic Fiber Filler- Hook yourself into a great sleep.
This ultimate pregnancy body pillow is custom made for expectant moms who need help getting to sleep--or who face extended bed rest due to their delicate condition. The best maternity pillow on today's market, this boppy body pillow should rank high among first pregnancy gifts at baby shower celebrations.
Better than a partial pregnancy wedge pillow, this pillow is shaped like the letter j; thus cradling and supporting the body to accommodate the ever sensitive baby bump (talk about a belly pillow!). As you recline on this ideal pregnancy cushion, you will feel like you are sleeping on the moon that overlooks your peaceful slumber--thus redefining the term moonlight slumber. The aches and pains that afflict your head, neck, stomach and back will be eased as you enjoy a rejuvenating rest.
Once your baby is born, you may find that this pregnancy sleeping pillow serves you as the type of body pillow bed rest necessitates as your body recovers from the delivery process; offering full body support as you recoup. Plus your little one might join you on this most comforting of maternity pillows; acting much like a cradle swing or camo snuggie, or even like a boppy newborn lounger or nursery chairs.
Even those who aren't expecting a bundle of joy will find much to like about this luxurious full body pillow. With its whisper soft synthetic down fiber filling and its coddling, perfectly shaped cotton pillowcase (the ideal cozy cover), this hypoallergenic pillow and total body support pillow doubles as the most comfortable pillow you'll ever own. It's the perfect i can help u sleep and comfort u body pillow; and also a surefire medicinal aid for people who need a woman body pillow to cope with menstrual and other feminine issues, a snoogle total body pillow, a fibromyalgia pillow, a senior pillow that makes for great nursing home gifts, an arm body pillow for those who have aching limbs, and a comfort keepers style pillow for anyone who needs to be eased through a good night's sleep. And it's machine washable!
This surefire sleep buddy also qualifies as a peerless side pillow sleeper; ranking among top comfort cushions for those who prefer to sleep on their sides.
The J Full Body Pillow - Hypoallergenic Synthetic Fiber Filler- Hook yourself into a great sleep is the perfect pregnancy pillow organic that can help just about anyone achieve a great night's sleep. You'll be 'hook'ed!
The flexible design allows a variety of positions while sleeping on your side or back. Helps alleviate and/or aid: Pregnancy and Nursing Lower Back and Hip Pain Upper Back, Shoulder and Neck Pain Chronic Pain and Fibromyalgia Restlessness and Insomnia Bedridden Individuals.
Benefits and Features
PREGNANCY SUPPORT - It is recommended to sleep with support for your "baby bump", and our body pillow is a much comfier way to get that required support than the standard pregnancy wedges can be.
MATERNITY PILLOW - As baby comes home, hold on to these oversized pillows. They make excellent maternity pillows for added support holding baby during bottle or breastfeeding.
SIDE SLEEPER - The J Full Body Pillow is a favorite among side sleepers, as the unique shape almost envelopes your body and it provides total body support.
HYPOALLERGENIC - The premium quality synthetic down fiber fill of this pillow is 100% hypoallergenic, helping to increase your odds of a more restful and sneeze-free sleep.
CUSTOM COVER - The 100% cotton pillowcase is made specifically for the J Full Body Pillow, and is machine washable for easy care.
Product Information Details
Weight:
5.7500
Asin code:
B005AWVOBW
MPN:
CBP-003-01
UPC:
885535378363
Manufacturer:
Living Healthy Products
Brand:
Deluxe Comfort
Depth:
46
Lead Time to Ship:
25
Height:
9.5
Length:
46
Shipping Weight:
5.75
Width:
17
Customer Reviews
5/5 Stars Wonder Pillow for a Mom-to-Be

Review by

Janice Collins

(Posted on November 20, 2013)


| | |
| --- | --- |
| Quality | |
| Value | |
| Price | |
| Quality | |
| Value | |
| Price | |

This pillow was the perfect thing on earth. I preferred it than any other pillow and I was totally right. It has optimum quality and performance. However, I don't recommend it to taller women because they will have a hard time for leg support.



5/5 Stars my husband's gift

Review by

rrbih

(Posted on September 18, 2013)


| | |
| --- | --- |
| Quality | |
| Value | |
| Price | |
| Quality | |
| Value | |
| Price | |

One of the precious maternity gifts my loving husband bought me. These pillows were always by my side making my sleep and rest comfortable. I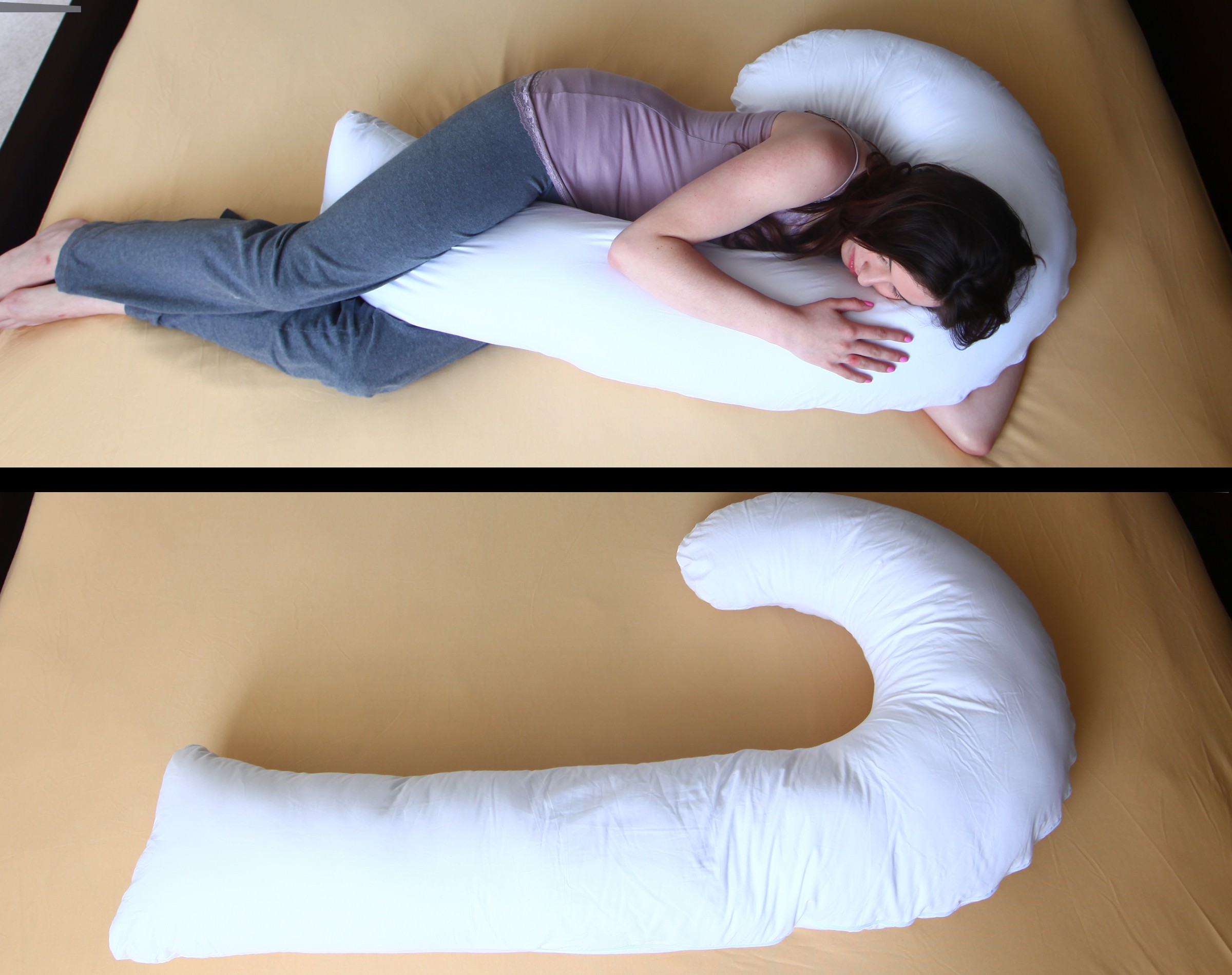 Deluxe Comfort J Full Body Pillow - Total Body Length - Prenatal Pregnancy Pillow - Hypoallergenic Synthetic Fiber Filler - Body Pillow, White