Get Free Products In Exchange For Reviewing Them - Limited Availability Sign Up Now to Secure Your Spot!
Product Features
» BEST BODY PILLOW FOR ADULTS - Deluxe Comfort's U Shaped Body Pillow - Comfort & Pregnancy pillow - is the very finest body pillow on today's market, boasting peerless craftsmanship and endless comfort in one big, cushy package. It's the total pillow that nurtures you from head to toe!
» GENUINE MATERNITY PILLOW - The luxurious softness and U-shaped formation of this total pillow make it an ideal pregnancy pillow for new and expectant mothers. This full-service pregnancy body pillow coddles the mother's body during this challenging time.
» THERAPEUTIC BODY CONTOUR PILLOW - Aside from ranking among the ideal maternity pillows, this snoogle variety pillow also serves to comfort and alleviate aches and pains all over the body; including the head, neck, back, shoulders, arms and knees.
» PERFECT SUMMER SIDE SLEEPER PILLOW - Actually any time of year is the ideal time to try these pillows for side sleepers; pillows with a revolutionary U shape that will make you feel as though you are sleeping on a moon.
» GUARANTEED FULL BODY SUPPORT PILLOW - We guarantee the high quality and succoring comfort of the U Shaped Body Pillow - Comfort & Pregnancy pillow. If you have any questions, complaints or concerns regarding this body support pillow, please do not hesitate to contact us.
Product Overview
After a long day, there's nothing like sinking your tired head into a sleep buddy style pillow that comforts the cranium. What happens, though, when other body parts are in equal need of tender loving care--a total comfort pillow that also supports the back, shoulders, arms and knees? Deluxe Comfort delivers the answer in the form of the U Shaped Body Pillow -- Comfort & Pregnancy pillow.
Designed with mothers in mind, this divine u pillow makes for the ultimate body pillow pregnancy; ranking among those top first pregnancy gifts and pregnancy pillows. The best maternity pillow on today's market, this is a pregnancy sleeping pillow that gives new and expectant moms the nurturance and luxuriance they need during those challenging months. And after the child has arrived and once they reach the right size, this total body pillow could morph into a baby body pillow--serving as the cushiony equivalent of a baby hip hugger, baby rocker or designer baby bedding; a sweet resting space for your bundle of joy.
Beyond being the perfect maternity pillow or pregnancy body pillow, this equivalent to a snoogle total body pillow benefits people facing various challenges to their health and well-being. Due to its body hugging shape and cushiony surface, it could morph into a pillow bed rest for those who need extended relaxation periods, a chiropractic calendar pillow for those dealing with back pain, a fibromyalgia pillow, a woman body pillow for those times of the month, nursing home gifts for seniors who need therapeutic bedding for arthritis and other problems, those undergoing breathing treatments (as they need extra body support to promote ventilation), an arm body pillow, boppy noggin nest head support, bed lounger back support, and a back n belly pillow for those that have pains in these areas, a hypoallergenic pillow for those with sinus and allergy problems, a nursing wedge, slumber buddies to promote better sleep, and an anti aging pillow that relieves and revitalizes the joints. This is simply a stellar example of memory foam pillows tempurpedic.
Even for those who are hale and hearty at all stages of life, this heavenly comfort keepers style example of full body pillows nurtures and supports as you achieve a better night's sleep. The most comfortable pillow on the market, this ideal 'i can help you sleep' aid is shaped like the ethereal moon that oversees your slumber. A true comfort 'u' body pillow, this feels like a bean body pillow and is a side pillow sleeper that eases you into a long night's rest while relieving anxiety; one even similar to a pillow hug or boyfriend pillow in its whisper soft texture. This is a holistic total body support pillow.
You may even come to admire this rest aid as my comfy pillow!
Benefits and Features
SIDE SLEEPERS delight in the perfect amount of support they receive with this large, u-shaped body pillow. No matter how you sleep, this pillow will spoil you with cuddly comfort.
PROVIDES SUPPORT to all areas that are crucial for ensuring a restful and pain-free night's sleep, including the head, neck, back, shoulders, arms and knees.
BEST PREGNANCY and maternity pillow for pregnant women and new mothers. Make breastfeeding a breeze with the added support of this useful pillow.
THERAPEUTIC BENEFITS include a reduction in general aches and pains, relief from arthritis discomfort, and improved circulation.
RESTFUL SLEEP attributes to a reduction in stress and anxiety, which leads to a better day for everyone!
Product Information Details
Weight:
7.1000
Asin code:
B005AWVLKG
Product ID:
31592
Item ID:
197672
MPN:
UBP-003-01
UPC:
885535378370
Dimensions:
26x21x18 box
Manufacturer:
Living Healthy Products
Brand:
Deluxe Comfort
Depth:
104
Lead Time to Ship:
5
Height:
10
Length:
104
Shipping Weight:
7.1
Width:
13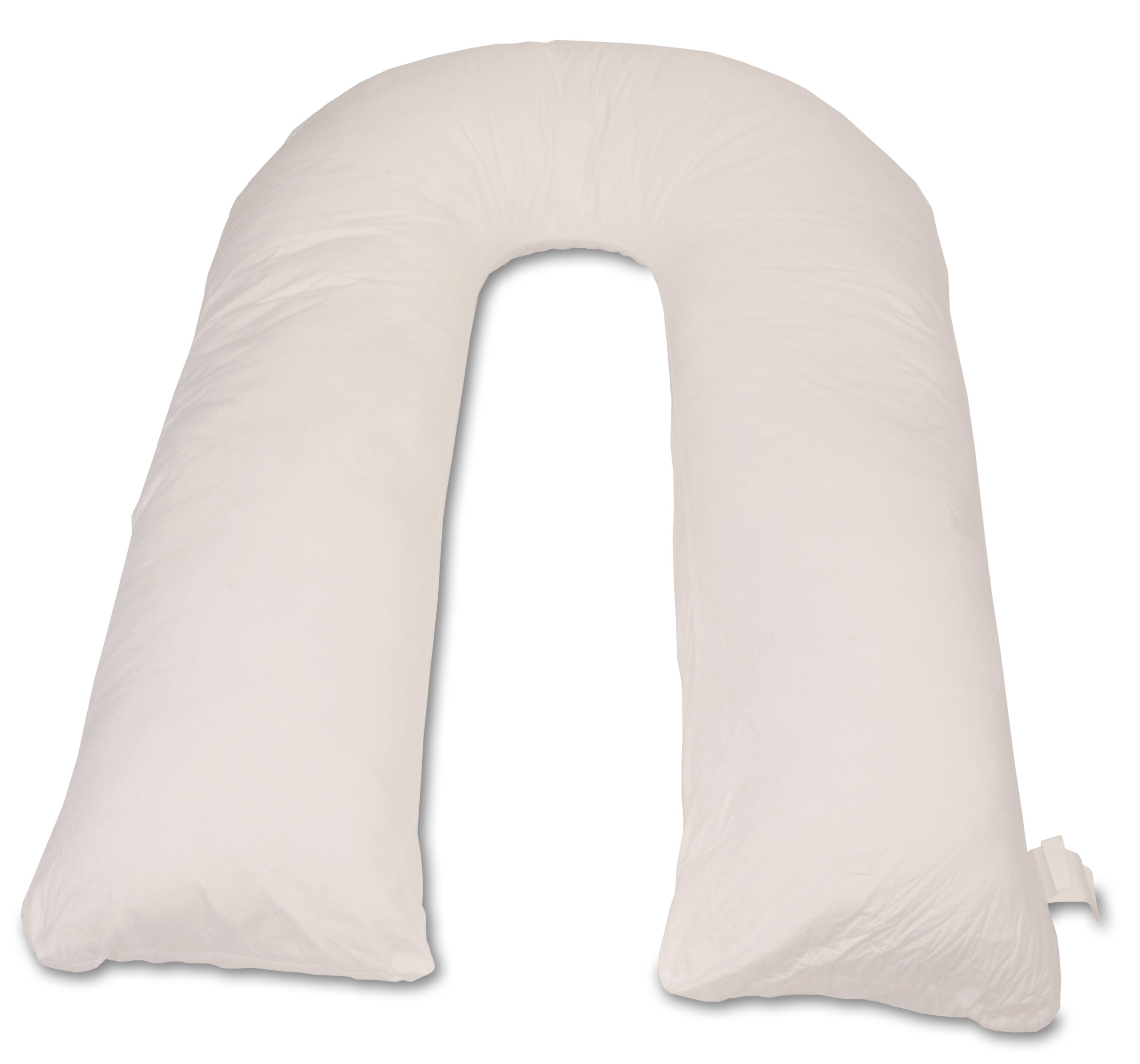 Deluxe Comfort Perfect U Full Body Pillow - Inspired U Shaped Design - Total Body Length - Prenatal Pregnancy Pillow - Body Pillow, White