Get Free Products In Exchange For Reviewing Them - Limited Availability Sign Up Now to Secure Your Spot!
Product Features
» BEST BEADED PILLOWS - Deluxe Comfort's MicroBead Cloud Pillow is a top quality bead pillow that represents the perfect marriage of infinite comfort and superior craftsmanship. This is a long lasting and reliable air bead pillow that supports even as it succors.
» ULTIMATE COMFORT CLOUD PILLOW - Filled with literally millions of pillow beads, these luxurious cloud pillows not only pamper the head and neck. They succor these sensitive body parts to optimum effect; helping to ensure a better night's sleep.
» THERAPEUTIC MICROPEDIC SLEEP PILLOW - Even as they comfort and cradle the head and neck, these pillows take the form of a contour cloud pillow that supports and reinforces these vital anatomical parts. You'll wake up feeling totally refreshed!
» SIZABLE AND CONVENIENT CLOUD PILLOW - Measuring 18.5 by 12.5 by 4 inches, the MicroBead Cloud Pillow is as large and fluffy as any buckwheat pillow. Lightweight and easy to hold and move, this air bead pillow feels-most appropriately-as light as a cloud.
» GUARANTEED - We personally guarantee the superior craftsmanship and endless comfort of this micropedic sleep pillow. Please feel free to contact us with any questions, comments.
Product Overview
In today's busy and stressful world, a good night's sleep sometimes can be a precious commodity. You often might find yourself tossing, turning, and wrestling with an ill-fitting hard pillow and sheets that may not offer anything in the way of optimum comfort. A restful night of slumber might come easier, however, if you made it a regular practice to sleep on a virtual cloud....

Deluxe Comfort's MicroBead Cloud Pillows are true and ideal ivory cloud pillows; a comfortable and luxurious cloud shaped pillow that offers the optimum in divine and restful comfort.

OK, so we'll own up right now; these pillows are not--full disclosure here--culled from actual clouds. Yet this is in fact a squishy microbead pillow that contains more than 13 million microbeads that flow beautifully together to form a succoring and delightful cloudlike texture. This cushie pillow with microbeads will answer prayers for anyone who often struggles to get a decent night's sleep. You will indeed feel as though you are slumbering on a sobakawa cloud--or, at the very least, like you are resting on a sleep aid that comes complete with down pillow inserts or feather pillow inserts.Some might counter, of course, that a pillow can be too soft and pliable. 'Rest' assured, though, that this pillow with beads inside is a solid sleep aid that will contour to the shape of your head and neck; and like any good microbead pillows, will help to support the body and alleviate the aches and pains that plague far too many of us. In addition, the quality of the pillow microbead ensures the strength and long lasting durability of this micropedic pillow.

This squishy microbead pillow, as an added bonus, is lightweight and easy to carry. Like a buckwheat hull pillow or a sobakawa cloud pillow, it is completely shiftable and adjustable. And its compact and generous sizing--18.5 by 12.5 by 4 inches--supplies ample support for the head and neck.

There's nothing quite like sleeping on a cloud; and with the Microbead Cloud Pillow White, you will be doing just that!
Benefits and Features
MICRO AIR BEADS - Go beyond ordinary as small, air-filled beads fill this pillow by the millions, never breaking down as a regular pillow tends to do.
EXTREME COMFORT - Feel the bliss of sweet slumber as those air beads cushion your head, making you feel as though you're sleeping on a cloud.
CONTOUR SUPPORT - While retaining a firm support for both your head and neck, this pillow continues to feel soft and squishy leading to a more restful and less painful sleep.
SMALL & LIGHTWEIGHT - This pillow is small and lightweight so you can bring your restful sleep with you wherever you go.
AIRY AWESOMENESS - Enjoy the air-filled awesomeness of this microbead pillow every night.
Product Information Details
Weight:
1.2000
Asin code:
B004I6976U
Product ID:
24984
Item ID:
174547
MPN:
SOBCP-001-01
UPC:
885535335724
Manufacturer:
Living Healthy Products
Brand:
Deluxe Comfort
Depth:
12
Height:
4
Length:
15.5
Shipping Weight:
2
Width:
22
Customer Reviews
3/5 Stars wrong advertisement

Review by

Ron Tyler

(Posted on June 20, 2010)


This pillow is advertised wrong. It keep its shape, but your head sinks when you lay down on it. I It's smaller than a standard pillow and first week smells like it's been washed in all kinds of chemicals - but smell goes away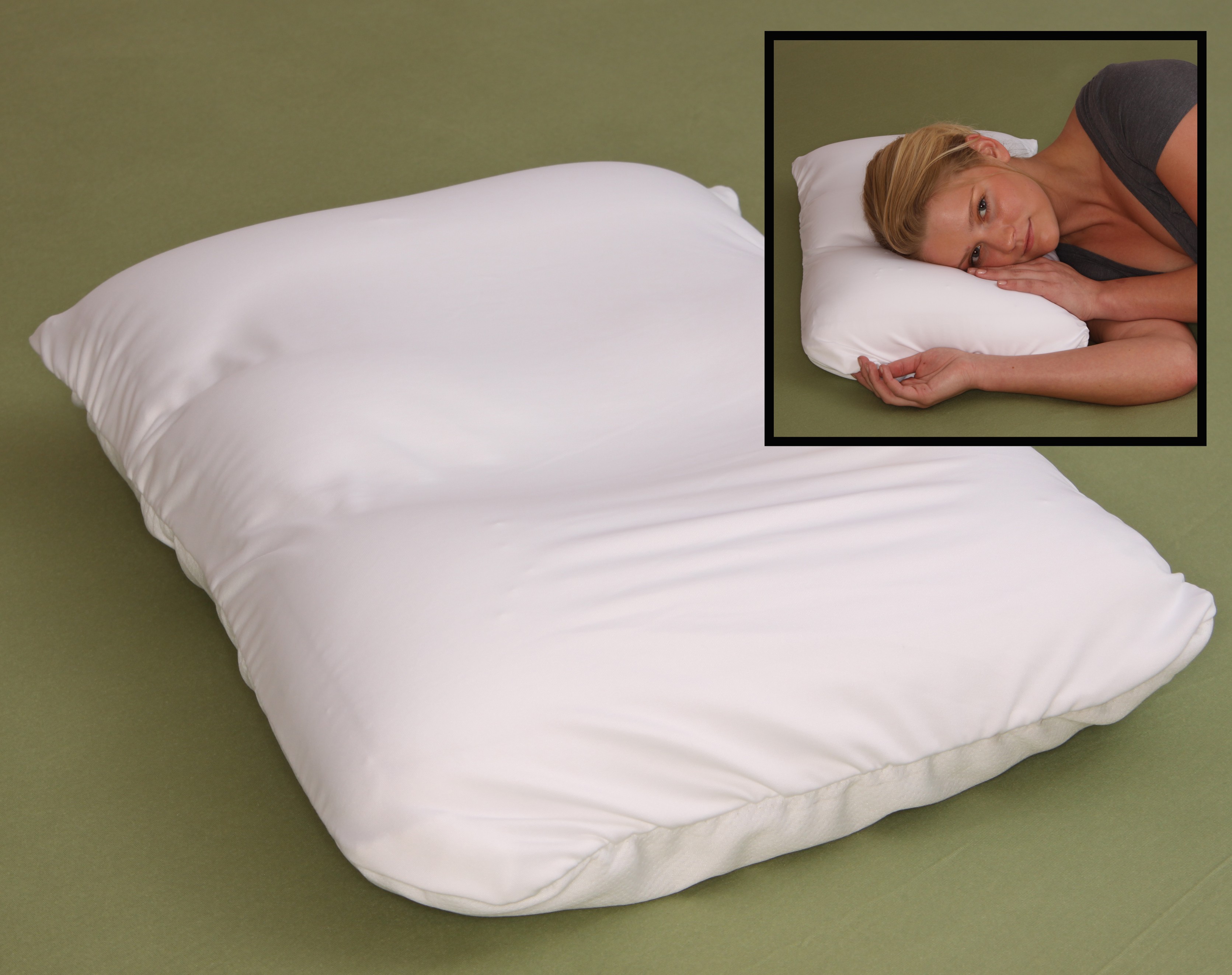 Deluxe Comfort Microbead Cloud Pillow, Small (18.5" x 12.5" x 4") - Micropedic Technology - Contours Perfectly - Promotes Healthy Sleep - Bed Pillow, White