Get Free Products In Exchange For Reviewing Them - Limited Availability Sign Up Now to Secure Your Spot!
Product Features
» Install handle by sliding handle over handle and knob
» Place apple on Pin Head and Position blade under apple by turning handle
» Simply turn handle to start peeling
» Blade will automatically move away from apple
» Blade can be removed for cleaning by pulling off blade arm
Product Information Details
Weight:
0.5000
Asin code:
B005AWVG2O
MPN:
APPL-002-01
UPC:
885535356828
Manufacturer:
Living Healthy Products
Brand:
Deluxe Comfort
Depth:
4
Height:
4
Length:
5
Shipping Weight:
2
Width:
4
Customer Reviews
Justus

(Posted on March 27, 2013)


I recently purchased this after picking way too many apples. This turned out to be a complete waste of money and time. The plastic is flimsy, the handle pops off while you are turning it, and the suction cups on the base are weak. One of their selling points is "the spring loaded blade peels the apple skin in one continuous motion", but when the handle keeps popping off that means a lot of stopping and restarting. The peeler does work but just not very well. In my opinion, there are others listed here on http://www.deluxecomfort.com that are better constructed and would do a much better job for just a few dollars more. I did not realize something like this would require due diligence before buying but I learned the hard way.



5/5 Stars Great apple-peeler

Review by

Jamie Martin

(Posted on February 5, 2013)


This apple-peeler is the bomb. Just make sure you start peeling with the blade at the bottom of the apple. I purchased these for my kids. Now my friends want to know where I got it so they can use it themselves.



5/5 Stars Peels fast

Review by

Frida

(Posted on October 22, 2012)


I found this little guy yesterday and was hesitant to buy it at first, but I figured i can always return it if it doesn't work. It is FAST and its simplicity is nice. It comes with an extra blade and everything is removable for cleaning and is easy to just hand-wash. It does not core or slice, just peels. Those who want the whole shebang, this is not for you.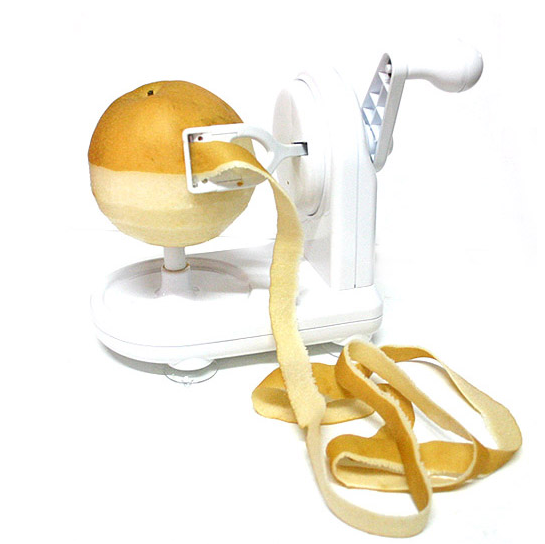 Perfect Peel Apple Peeler - Easy Clean Removable Comercial Blade And Flexable Spring Loaded Peeling Arm - Struggle Free Continuous Motion Turn Handle - Secures To Countertop With Non-Slip - , White