Thank you for shopping with us! durring Coronavirus Disease 2019 (COVID-19) Pandemic - We Are Open - Please Be Safe!
Product Features
» THE BEST BOLSTER PILLOW - From its comfortable cushioned contours to its superior craftsmanship, Deluxe Comfort's Adjustable Leg Support Pillow is that very finest of specialty pillows; one that both heals and supports. This is the ultimate pillow to combat leg pain and more!
» ULTIMATE JOINT PAIN PILLOW - The finest in joint pain relief products, this joint support pillow helps to relieve medial knee pain, pain behind knees, hip pain, lower back pain, leg pain, muscle spasms, and varicose veins. This pillow promotes sciatica treatment, and is an arthritis pillow and a bursitis pillow.
» COMFORTABLE LEG PILLOW FOR SLEEPING - With its luxurious foam inserts and contoured shape, this wedge pillow for legs offers sublime comfort for the entire body and is in particular a nurturing back support pillow for bed.
» THE FINEST SUPPORT PILLOW - This ideal spinal support pillow-and the best back support pillow-offers enhanced circulation and elevated leg rest. This bolster pillow supports even as it comforts. This may be the best back support pillow on today's market!
» GUARANTEED JOINT PAIN RELIEF - We personally guarantee the excellent craftsmanship and endless nurturing comfort of the Adjustable Leg Support pillow. If you have any questions, problems or complaints regarding this leg pain relief tool, do not hesitate to contact us.
Product Overview
You retire to bed, ready for a relaxing sleep; one that will revitalize you while sleeping in preparation for a challenging new day. Then in the dead of night, you awake with one thought in mind: Your joints hurt. You have nerve pain. In other words, you hurt. Only hurt doesn't begin to cover the discomfort that has overtaken your body. You feel as if you need sciatic nerve treatment-or just a comforting and supportive pain relief pillow that will see you gently through the night. Deluxe Comfort delivers via the Adjustable Leg Support pillow; the bolster pillow for knees which delivers a luxuriating relief to all varieties of bodily pain and discomfort .Like a luxury body roll pillow, this soft physical memory foam pillow and memory foam wedge shifts to conform to and support the body and contours. Yet this knee wedge pillow is revolutionary in that it addresses a neglected body part. While many a square or round pillow supports the head and neck, this knee pillow for sleeping elevates the legs to improve circulation and alleviate aches, cramps, spasms and pains-thus serving as the perfect knee bolster or knee rest .But it doesn't take a lot of leg work to figure out that the Adjustable Leg Support is not only a knee pillow or a leg pillow, but a therapeutic example of leg pillows for back. When you slumber on your back, the weight of the legs pulls at the spine-thus creating a need for back pain therapy. By easing pressure on the knees and legs, this flexible pillow-which assures spine alignment-also can be a back pain pillow, an example of body pillows for back, or back pillow for bed. It also morphs into a pillow that eases joint pain during pregnancy or joint pain after pregnancy, a bursitis pillow, a lower back pillow, a pillow to use after hip revision surgery, a chiropractic pillow, arthritis pillow, scoliosis pillow, hip pillow, or chiropractic cushion. It even helps with sciatica treatment or thigh pain. This generously sized 9-1-2 by 17 by 24 inches back support pillow bed boasts a hypoallergenic zippered cover that is machine washable. All in all, the Adjustable Leg Support gives you a leg up on pain!
Benefits and Features
INCREASED CIRCULATION due to the elevation of your legs leads to therapeutic benefits such as relief from lower back pain, leg cramps, muscle spasms, and varicose veins.
CONTOURED SHAPE, made from supportive memory foam, molds to the shape of your legs to ensure a more comfortable and restful sleep. So comfortable you could lay there all night!
FOAM INSERTS, constructed of even more soft memory foam, can be added to or removed from the white leg wedge pillow to adjust the desired height.
ZIPPERED COVER is flame retardant, and it won't bother any allergies you may have. The case is easily removable, so it may be machine washed and dried on a gentle setting.
ENJOY ELEVATED leg rest for many nights to come with our excellent leg wedge pillow.
Product Information Details
Weight:
1.5000
Asin code:
B004Z9YTBS
MPN:
MJ4027
UPC:
885535374976
Manufacturer:
Living Healthy Products
Brand:
Deluxe Comfort
Depth:
9.5
Lead Time to Ship:
5
Height:
24
Length:
9.5
Shipping Weight:
4
Width:
17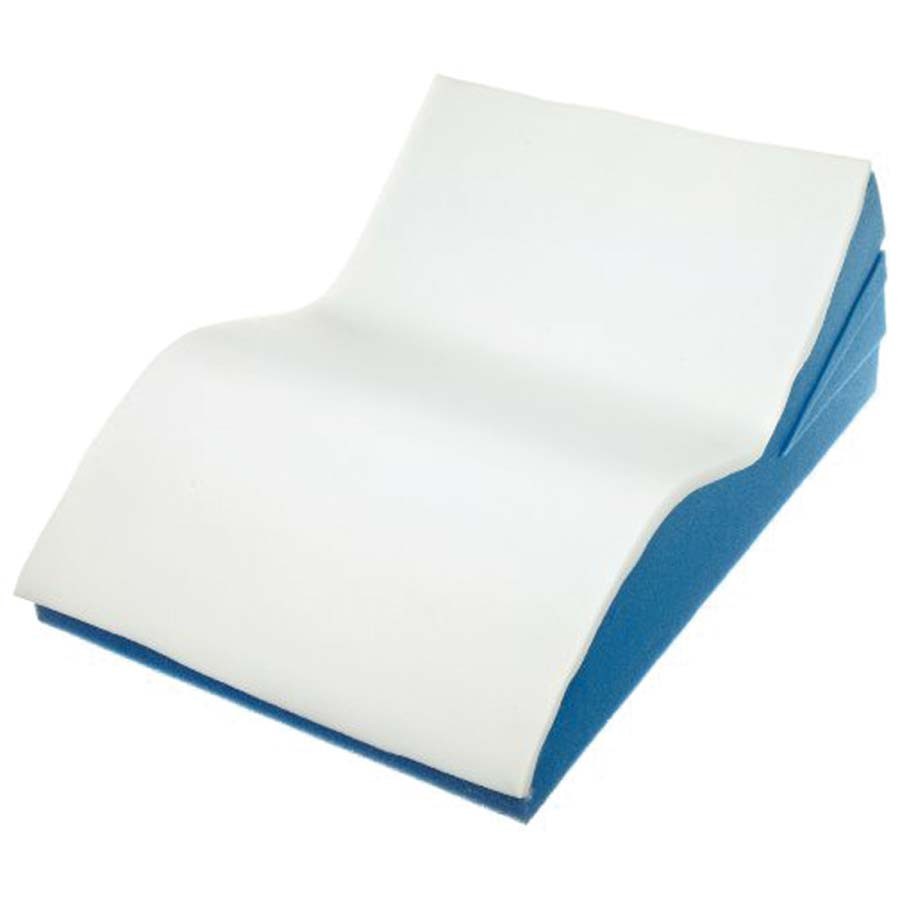 Deluxe Comfort Adjustable Memory Foam Leg Support Pillow, 24" x 17" x 9-1-2" - The Ultimate Pain Relief Pillow - Specialty Medical Pillow -