Get Free Products In Exchange For Reviewing Them - Limited Availability Sign Up Now to Secure Your Spot!
Product Features
» Size: Queen 90 x 96 inch
» 230 thread count 100% cotton Barrier WeaveTM specially woven to prevent down from sneaking out
» Fill Wt: 18. Fill Power: 550. Pacific Coast
» Care: Machine wash and dry. Made in the USA of imported materials.
» 10 year limited warranty.
Product Overview
Sizes: Twin - 66 x 96 inches Full/Double - 80 x 96 inches Queen - 90 x 96 inches King - 108 x 96 inches About Pacific Coast Pacific Coast Feather Company has been focused on quality down and feather bedding since 1884. Located in Seattle, WA, Pacific Coast blends old-world craftsmanship with modern innovations to bring you the best in high- quality, luxury bedding, down comforters, bed protectors, feather pillows, goose down pillows, duvet covers, body pillows, feather beds, shams, and more. Pacific Coast is famous for its 30-Night Comfort Guarantee - you'll be satisfied with its quality and comfort, or your money back. Hyperclean Pacific Coast down and feathers are washed and rinsed up to eight times in order to remove dirt, dust, and allergens. They emerge from this process as the only down and feathers on the market clean enough to be called Hyperclean. Hyperclean down is not only cleaner than other types of down, but it is also fluffier and more comfortable. It's also backed by Pacific Coast's famed Allergy-Free Warranty. Fill Power When shopping for a comforter or other down products, always check the fill power. Fill power is synonymous with quality, and often times the higher the fill power, the better the insulation, breathability, and durability. However, fill power speaks to the down's cluster density, so if you're looking for a lighter cover, bigger may not always be better. Barrier Weave
Benefits and Features
550 fill power Allergy Free™, Pacific Coast down
Material: Cotton
Specially sized to be tuckable
Matching satin-trimmed edge
Easy-care, machine-washable
Product Information Details
Weight:
6.5500
Asin code:
B000GG167E
Size:
queen
Product ID:
40_DC_54327
Item ID:
HN-PCF018
MPN:
54327
UPC:
'025521543270
Manufacturer:
Pacific Coast Feather Company
Brand:
Pacific Coast Feather
Depth:
5
Lead Time to Ship:
5
Height:
90
Length:
5
Shipping Weight:
2
Width:
96
Customer Reviews
2/5 Stars Send this back

Review by

Gary Charles

(Posted on July 14, 2012)


I had to double check that correct item had been shipped. It really weighed down the medium Pacific Coast comforter we already had. We hoped this blanket would add just a little more warmth without much extra weight. I can deal with the extra weight but my wife can't. We will try the Pacific Coast's lightest comforter instead and send this item back.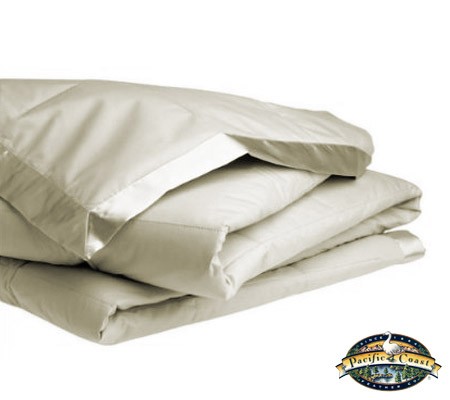 Pacific Coast - Satin Trim Down Blanket Cream Queen