Get Free Products In Exchange For Reviewing Them - Limited Availability Sign Up Now to Secure Your Spot!
Product Features
» Lightweight fashionable appearance
» Elegant Sheer Diamond Pattern Design
» Perfect for Evening wear
» Durable reinforced toe and heel
» Seamless circular knitted for a soft, silky look and comfortable feel
Product Overview
JOBST UltraSheer Knee High Moderate Compression Stockings are stylish knee high stockings that provide firm and shapely support for your legs throughout the day. They are great for tired, aching legs as well as light spider or varicose veins. These physician recommended gradient moderate compression improves blood flow while helping prevent swelling.
Benefits and Features
Accuracy, quality and durability come together in one of the most fashionable lines of support stockings in the entire industry. Choose from a variety of exciting new colors including: Classic Black, Natural (formerly Silky Beige), Suntan (formerly Sun Bronze), Honey, Anthracite and Espresso.. Fashion and efficacy rolled all into one. UltraSheer is the sheerest compression stocking in its class. Jobst UltraSheer Knee High 15-20 mmHg moderate support compression stockings are lightweight, comfortable and highly effective in optimizing leg health. Sold per pair.
Product Information Details
Weight:
1.0000
Asin code:
B0000Y3GU2
Size:
Medium
MPN:
1192402
Manufacturer:
BSN Medical
Brand:
Jobst
Gender:
Female
Lead Time to Ship:
5
Customer Reviews
1/5 Stars Poor Product Distribution

Review by

Mohnish

(Posted on July 25, 2012)


I had to let go of this compression stocking brand because it was never available at www.deluxecomfort.com. I sent my order on the 23rd day of December and cancelled it because they don'r have stock yet. I had to drop my order.



2/5 Stars Too Tight, Not Functional

Review by

Marian Gibbs

(Posted on December 1, 2011)


It didn't go well for me since it's very tight and can't even get into my legs perfectly. So sad, I had to look for another one.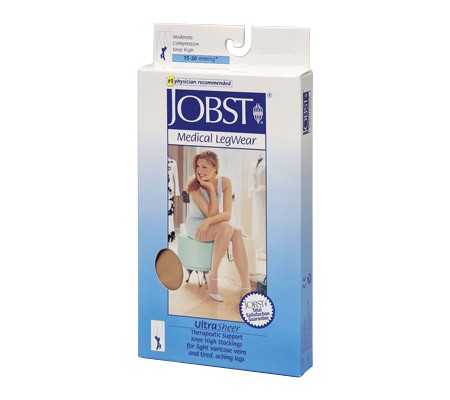 Jobst Ultrasheer Closed Toe Knee Highs 15 20 Mmhg - Natural