Get Free Products In Exchange For Reviewing Them - Limited Availability Sign Up Now to Secure Your Spot!
Product Features
» Jobst UltraSheer compression pantyhose are the perfect hosiery for any casual, work, or elegant occasion.
» They have a reinforced toe for extra durability and a sheer heel.
» Jobst UltraSheer compression pantyhose have a beautiful floral lace french cut panty and a comfortable waist band.
» They are perfect for the lady that needs extra support past her knees and does not like thigh highs or has not had great success with thigh highs in the past.
» This product is Latex free
Product Overview
Jobst Women's UltraSheer 8-15 mmHg closed toe support pantyhose are available in silky beige, sun bronze and classic black. Sold per pair.Fabric Content: 81% Nylon, 19% Spandex - LATEX FREEJobst UltraSheer is the perfect hosiery for any casual, work, or elegant occasion. Fine yarns for a sheer look. Sheer heel. Reinforced toe for added durability. The ultimate in fashion.The following are the corresponding Jobst catalog numbers for ease of cross-referencing: 117233 , 117234 , 117235 , 117236 , 117237 , 117238 , 117239 , 117240 , 117241 , 117242 , 117243 , 117244 , 117245 , 117246 , 117247 , 117248 , 117249 , 117250 , 117251 , 117252 , 117257 , 117258 , 117259 , 117260
Product Information Details
Weight:
1.0000
Asin code:
B0000Y3HFQ
Size:
Small
Product ID:
30438
Item ID:
184106
MPN:
117237
UPC:
555555567602
Manufacturer:
BSN Medical
Brand:
Jobst
Gender:
Female
Lead Time to Ship:
5
Shipping Weight:
2
Customer Reviews
5/5 Stars User Friendly Compression Stockings

Review by

Summer Tyler

(Posted on September 7, 2013)


It was recommended by one of my closest friend that's why I never had doubts with its quality and function. I went under a rigorous knee surgery and these compression stockings helped regulate my ankles. I'm lucky I've found my size and colors under this great brand.



3/5 Stars Inaccurate Item Delivery

Review by

Brandy S.

(Posted on March 14, 2013)


It was shipped at my residence right on time but was the wrong size. I ordered large size, but what was delivered was a bit oversized with my legs. I just decided to purchase another one with medium size instead of asking for a replacement. It fitted perfectly.



2/5 Stars Necessary Fit Solution

Review by

Tommy Booth

(Posted on December 28, 2012)


Months ago, I was suffering from serious venous right leg difficulty. It was necessary for me to wear these compression pantyhose to subsequently reduce the aching. After two hours of wearing them, I felt the baggy feeling which was entirely uncomfortable. I pulled them out in the restroom and was very disappointed with its poor quality performance. I don't recommend this product.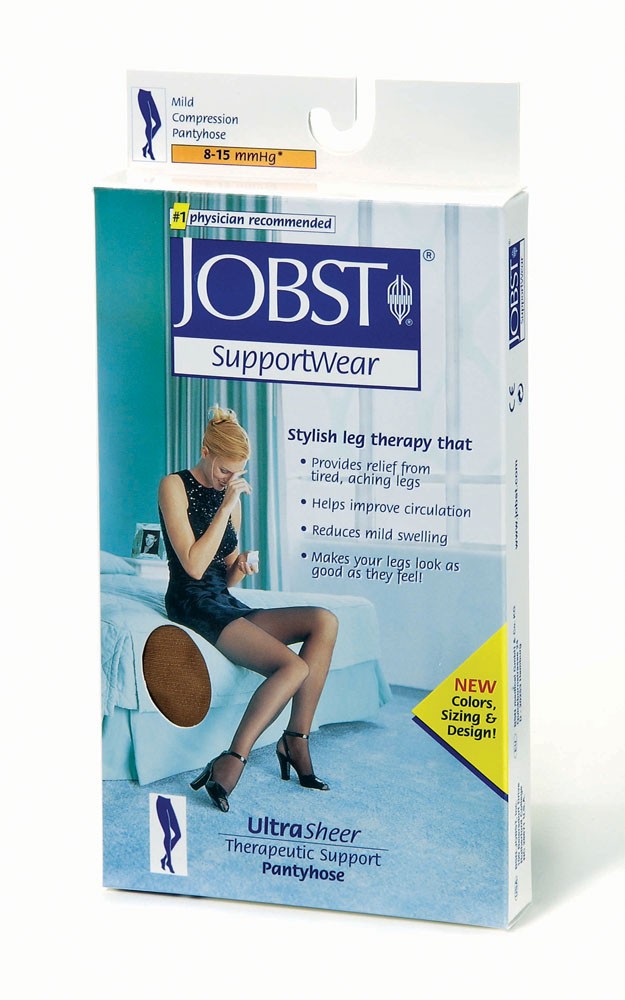 Jobst Ultrasheer 8-15 Mmhg Pantyhose - Sun Bronze - Small