Get Free Products In Exchange For Reviewing Them - Limited Availability Sign Up Now to Secure Your Spot!
Product Features
» Size Large (38"-41")
» Made of 9" elastic with 3" tension pull straps and flexible metal stays
» Designed to transfer support from the lower back to thoracic spine and abdominal cavity
» Offers comfort and safety
» Includes removable, adjustable straps
Product Overview
Deluxe Industrial Lumbar Support w/ Shoulder Harness
Motion of the thoracic or lumbar spine can often delay healing, especially in fractures or in post-operative fusions. Limiting the motion of the spine by a back support enhances the healing process and minimizes the patient s discomfort. Most common injury that back supports are prescribed in is whiplash injury associated with car or work-related injuries. Most common area that the injury occurs at is the lumber area of the back or at the lumbo sacral junction. Back braces are designed to provide additional compression to the abdominal region and enhance protection around the paraspinal musculature surrounding the spinal column. Our catalog features products manufactured from a variety of materials including traditional, as well as, hypo-allergenic materials to provide everyone a comfortable, supportive fit. We offer standard back braces and more perforated mesh designs to enhance breathability and keep you cool during the heat of the day. Back pain from over exertion and pain from injuries, often bring anxiety and unwanted medical bills. When someone over exerts, strains or overdoes it with physical activity, they will experience back pain. But, there is an answer to most back pain worries and one of the best answers is the back support brace. A back support brace or brace can help manage the injury and pain that results from a back injury. A back support belt will help the injured to heal a bit faster and will help lessen the pain because by wearing the back support brace, it takes away some of the pressure on the spine.
Benefits and Features
Helps to relieve lower back pain by stabilizing the inflamed or painful area
Supports and provides compression to the affected area and help reduce pain and inflammation
Helps to relieve symptoms from arthritis, disc injuries, and the every day stress from work
A good back brace can also help correct posture
Product Information Details
Weight:
2.0000
Asin code:
B000G014IG
Size:
Large
Product ID:
23296
Item ID:
133028
MPN:
632-6400-0223
UPC:
'041298640011
Manufacturer:
Duro-Med Industries
Brand:
Duro-Med Industries
Lead Time to Ship:
6
Height:
3"
Length:
13.6"
Shipping Weight:
1
Width:
4.8"
Customer Reviews
1/5 Stars Does not fit

Review by

Ethel G.

(Posted on September 3, 2011)


This is made for men who are of medium sizes.It does not adjust for waist size. If you're a woman, a large size might fit. You can go to Home Depot and find a comparable, high quality belt with shoulder straps in multiple sizes for 1/4 for only $14.



5/5 Stars Strong and sturdy

Review by

Mija Savalas

(Posted on July 12, 2010)


The brace came was exactly as stated. I use it daily for my aerobics and it provides great stability. The velcro and elastic are very strong and sturdy. It does a great job as a back brace. I would definitely recommend it to anyone in the market. Also, it came out great from the washer on the normal setting and after being air dried.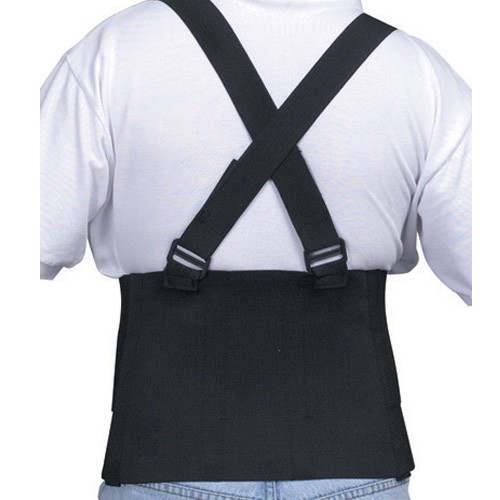 DMI - Mabis Deluxe Industrial Lumbar Support With Shoulder Harness