Get Free Products In Exchange For Reviewing Them - Limited Availability Sign Up Now to Secure Your Spot!
Product Features
» Closed toe styles designed with a roomy toe allowance for patients who require additional wiggle room
» Accurate gradient compression therapy at a price patients can afford
» 3-D knit structure using air covered spandex yarn that is soft to touch and comfortable for all day wear
» Reinforced heel, designed for long lasting durability Relief is appropriate for use by both men women
» Moderate to severe varicosities
Product Overview
Relief provides quality and efficacy at a moderate price.**Traditional design with the highest performance**Wide, comfortable band that stays in place**Easy to put on**Reinforced heel pocket for added durabilityThe following are the corresponding Jobst catalog numbers for ease of cross-referencing: 114620 , 114621 , 114622 , 114623 , 114624 , 114698 , 114730 , 114731 , 114732 , 114733 , 114734 , 114735
Product Information Details
Weight:
1.0000
Asin code:
B0012041J8
Size:
Large Full Calf
Product ID:
30537
Item ID:
185188
MPN:
114734
UPC:
035664147341
Manufacturer:
BSN Medical
Brand:
Jobst
Gender:
Unisex
Lead Time to Ship:
5
Height:
1.2"
Length:
8.1"
Shipping Weight:
2
Width:
4.7"
Customer Reviews
5/5 Stars this is a relief

Review by

Lorinda

(Posted on August 10, 2013)


You will be happy with this purchase. They work as described and advertised. The swelling in my knee has definitely been cut down already.



4/5 Stars worth it

Review by

Frankie Mazzarone

(Posted on May 9, 2013)


Great relief and well worth the money spent. I would definitely get more of these Jobst stockings in the future.



5/5 Stars nice product

Review by

V. Joner'z

(Posted on April 24, 2013)


Very nice and has a smooth fit. I hate the fact that I have to wear them but they help me a lot.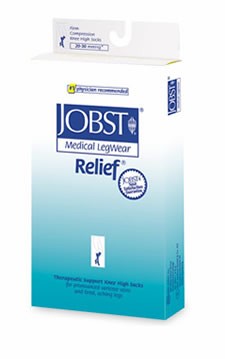 Jobst Relief 20 - 30 Mmhg Closed Toe Knee Highs Unisex - Black - Large Full