Thank you for shopping with us! durring Coronavirus Disease 2019 (COVID-19) Pandemic - We Are Open - Please Be Safe!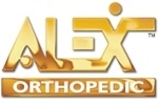 Alex Orthopedic, Inc. began in 1986 selling orthopedic products primarily into the Texas DME market. Since then, pillow products, DME products, diagnostic products, and hosiery products have been added. The acquisition of Mountain Properties in late 2005 added an entire line of canes and walking sticks. We now sell both on a direct dealer basis and through the network of national drug wholesalers. Alex Orthopedic, Inc. manufactures and ships from our facility in Grand Prairie, Texas, just outside of Dallas. Our packaging is some of the best available for retail and our orthopedic items feature bilingual information. Each of the categories we cover has best selling planograms to provide risk free product additions.


Best Sellers
Discide Disinfecting Towelettes- 1 TUB - Pk/160

Citrus II Germicidal Cleaner & Deodorizer 22 oz.
Dispos-A-Scope w/ Plastic Binaural